Firework displays in Beijing (Capital of China) once again added to the festive entertainment as
people ushered in the New Year.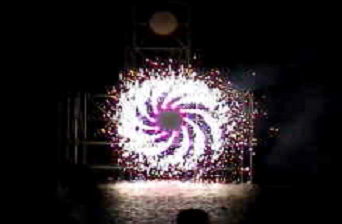 This is the second year the capital city has lifted the ban on fireworks. The ban will also be lifted for the Chinese Lunar New Year. It has previously been enforced for 12 years.
However, people were not allowed to set off fireworks within the Fifth Ring Road, only at designated places. This will also be in force during the coming Spring Festival. The measure is one of safety.
The city's vice-mayor, Lu Hao, said earlier the sale of fireworks will still be under the control of the government and safety is its top concern.
Lu said 13 warehouses have been specially built in Beijing to store fireworks and a total of 370,000 crates of fireworks have or will be put on the market for the New Year and the Spring Festival.
According to figures from the administration, the city has granted permission to about 2,500 retailers of fireworks this year, 400 more than last year.
To ensure a safer and better operation this year, Beijing has established a certificate system for sellers of fireworks, stipulating they must pass an exam before admission to the market.
The regulation also stipulates qualifications will be annulled if a seller is found to be involved in illegal fireworks. They will not be allowed to re-qualify for three years.
People above the age of 60 are also banned from selling fireworks.
"Vendors of fireworks must be able to help themselves and others in emergencies, this could be comparatively difficult for elderly people," said Li Wenjie, director of the Beijing Municipality's work safety and dangerous chemical management office.
According to figures from the administration, 1,081 vendors from the 18 districts and counties in the city sat for the examination, and 916 qualified.
The tough regulations on fireworks sent prices soaring last Lunar New Year, provoking complaints.
Vice-mayor Lu promised that prices at wholesale and retail markets would be published this year, and the Beijing Municipal Commission of Development and Reform would also supervise and rein in possible price hikes.
The authorities handled 75 cases after last year's Spring Festival, confiscating more than 140 million fireworks from unauthorized dealers. A total of 12,500 low quality fireworks were also destroyed.
According to the city's work safety administration, new anti-fake laser detectors are being used to test all fireworks.
Beijing citizens are encouraged to report cases of fakes by sending text messages to a designated number 12365 or visit the safety bureau's websites.
Statistics released by the city's work safety administration show that from 1985 to November 2005, there were 8,532 accidents caused by fireworks, which left 9,349 people dead.